Explore Tokyo & Suburb
Less than 1 min from Higashi Shinjuku subway station, this contemporary style hotel is located in in central Tokyo.Right outside the door there is a subway station, connecting visitors to the rest of the city. Accessible via public transportation to Shibuya, Roppongi, Ikebukuro, Asakusa, Ginza, Tsukiji Fish market and even Yokohama.
Tsukiji Fish Market
You can get to
Tsukiji Fish Market
by Oedo line. It takes about 35 min to get there from our hotel. Why not try some fresh delicious sushi? :D
Tsukiji Fish Market:
http://www.tsukiji-market.or.jp/tukiji_e.htm
Roppongi

You can take the Oedo line to get to Roppongi station.
It takes around 20 min by subway.
---
Akihabara/ Ikebukuro
The name
Akihabara
is now world famous. More than 250 electrical appliances and electronic shops of all sizes are located in a small area centered around Chuo-dori Street, to the west of Akihabara Station. Emerging animation-related shops have also been attracting much attention. The shop assistants have a wealth of knowledge of japanese (sub-)culture and are able to answer all sorts of questions you might have. Many of them speak English, Chinese or Korean(Information by JNTO).
Akihabara Information

:
http://www.akiba.or.jp/english/index.html
http://www.jnto.go.jp/eng/location/regional/tokyo/akihabara.html
Ikebukuro
has been often selected for the shooting for TV series and a scene of novels, and as a result young people who are keen on trends cast eager eyes on Ikebukuro. It is divided by JR Ikebukuro Station into the west side and east side areas.
On the eastern side department, stores and large fashion industry buildings stand side by side. One example is the Sunshine City area around the super-high-rising building, Sunshine 60, which is on the east of the shopping street leading to the station. Also, within in the Sunshine City area, a planetarium, a hotel, a shopping mall and a convention center with exhibition facilities(Information by JNTO) and etc. are all over.
Ikebukuro Information: http://www.jnto.go.jp/eng/location/regional/tokyo/ikebukuro.html
---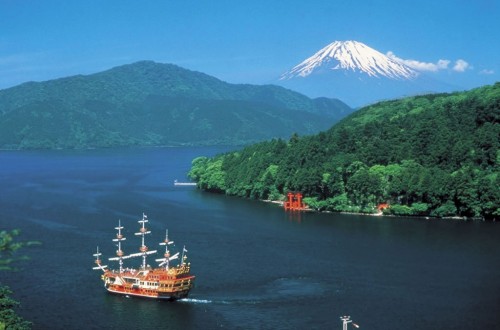 Hakone Ashino Lake
Hakone/ Kamakura
Hakone
is located in the Fuji Hakone Izu National Park about 80km west of Tokyo and attracts about 19 million tourists a year. It's really famous for hot-springs :) Hakone Information:
http://www.town.hakone.kanagawa.jp/
Kamakura
is one of ancient cities where Japan's central governments used to be located. In the late 12th century, the warrior class came into political power. Its government was formed by warriors, called Bushi or Samurai.
Kamakura Infofmation:
http://en.kamakura-info.jp/
---
Mt.Fuji
Mt. Fuji
is 3776 m (12,388 ft) above sea level, which makes the highest point in Japan.
Mountain climbing is open for two months, from July to August, and about 300,000 people climb Mt. Fuji during this period.
The iconic Japanese Mount
Fuji
was officially recognized as a
World
Heritage
Site at the annual UNESCO conference held in Cambodia. You can catch highway bus to get to Mt.Fuji from Shinjuku station.
Mt.Fuji Information
:
http://mtfuji-jp.com/
Highfway bus
:
http://highway-buses.jp/
---